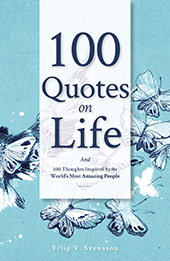 100 Quotes on Life: And 100 Thoughts Inspired by the World's Most Amazing People
I have written a book!
And the first review is in on Amazon: 5/5 stars!
The elevator pitch:
Not just a quote book.
With 100 amazing quotes and the motivating reflections of the author (which have received over 100 000 likes on Instagram) this is a quote book like no other – and the perfect companion through life.
Get it now on Kindle or try the very nice paperback version!