Blog #2 – A New World: Bali
February 19, 2017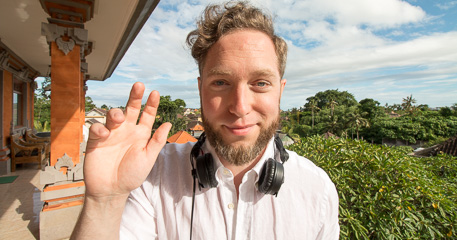 First of all, sorry for keeping you waiting for the first real blog, jetlag – and roosters – have been a challenge (more on that in the next blog). Second of all, I have never written a blog in my entire life so I'm not really sure what I'm doing. But I will try to give you the real picture and not a sugarcoated one with only the good bits on display. Not because I particularly want to, but because that's the blog that I'd like to read (also, the amazing bits aren't nearly as amazing without the context of life being just that: Life!).
Third of all: Hello new world!
So, here it goes.
I made it all the way from Sweden to Bali on the other side of the world, and from Kuta near the airport & ocean to the jungle-city of Ubud a couple of days later.
But things didn't go quite as smoothly as I had planned.
For instance, I almost got robbed in a back-alley in Kuta (don't tell my mom). And there was a small earthquake, which was actually a big earthquake in the Philippines. And before all of that, I had boarded a plane in Gothenburg at 07.55 in the morning with no sleep the night before, and somehow managed to land in Bali the next day at 14.55 – but only some 24 hours later.
It took three flights and some time-travely zigzagging between the time zones to pull it off, but we did it, haha! Ok.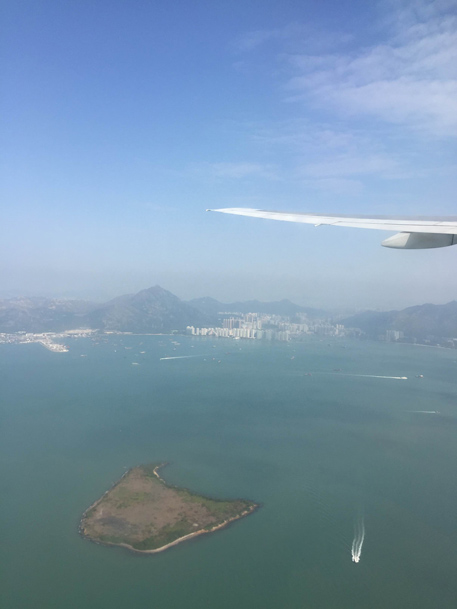 Although I really love flying – just looking out of the window and see the world from above is one of my absolute favourite things – I was pretty beat when I arrived in Kuta.
The plan was to stay there for a month, hanging out on the beach by day and working in the evenings, but Kuta (and the hotel) turned out to be something other than the nice place by the sea I had visualized. Too crowded, too noisy. And the bed at the hotel seemed to be made out of rocks! So with the jetlag and lack of sleep in general I felt negativity seeping in, and I was actually starting to doubt the whole thing. If it was such a good idea to go, and even whether Bali could offer what I was looking for. Thoughts that of course were completely irrational given that I had just arrived.
(Just to clarify, this was after almost 72 hours of going on only some sporadic hours of airplane "sleep" and way too little food, followed by not many hours of sleep the next two days in Kuta)
But the experience of hitting such a low actually ended up being the most rewarding thing of the trip so far, because after finally getting a long night's sleep (or rather a long day's sleep) and a big meal, all those negative thoughts went away!
Just like that.
And if I didn't know it before, that showed me just how important sleep and nutrition is to keep your world together, on track, and just how closely connected your body and mind really are.
Quite the awakening.
But another thing that is important when things don't go as planned is the ability reevaluate a situation and take new action. So even though I really enjoyed the sun setting over the ocean, and a nice hamburger and a cold Bintang at The Naughty Duck, I decided that Kuta wasn't what I came for and set aim for Ubud – a city that according to those in the know is a better representation of what Bali really is.
Said and done, and after an hour in an Uber and a lovely chat with the local driver (networking in Bali is officially on!), I arrived at the new hotel in the heart of Ubud.
And what a sight for sore eyes!
By some miracle I had managed to book a room with the most amazing balcony, overlooking treetops, rooftops, and yes – the sunset.
I'm going to leave you with an image I took from the balcony on the second evening in Ubud, and a teaser for the next blog post which – among other things – will be about finding productivity in a new environment (and roosters!).
Thank you for reading,
/Filip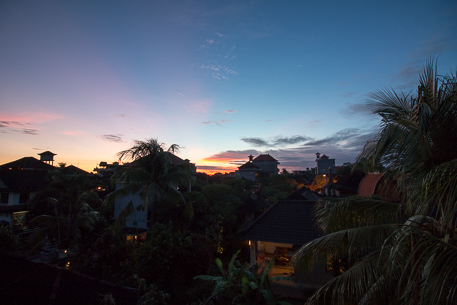 More:
The Latest Blog!
And the Instagram!
&
Who's Filip?