The Blog
Welcome to the blog of Swedish entrepreneur and author Filip Svensson, in constant pursuit of productivity, happiness and life.
(Btw, the archive is here: Blog Archive)
Blog #24 – My First Book is Now Available For Pre-Order on Amazon!
November 26, 2017.A Sunday.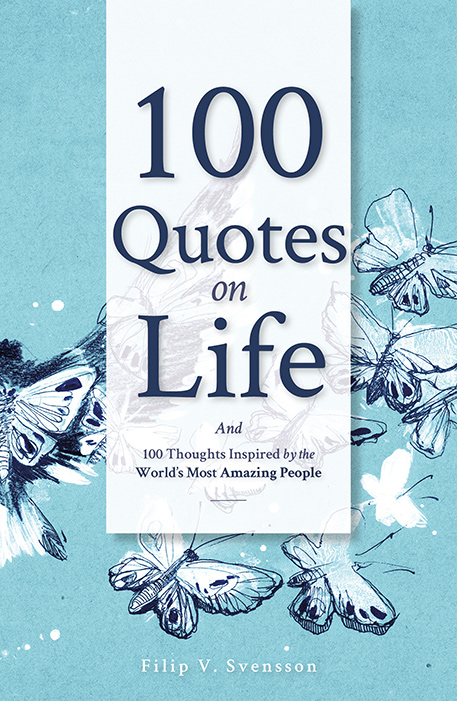 As you probably couldn't miss, it is called "100 Quotes on Life: And 100 Thoughts Inspired by the World's Most Amazing People" and it will be released on Amazon for Kindle on the 8:th of December, and the pocket version will be available soon as well.
(The gigantic cover pic will take you to Amazon, btw!)
The book is about 12 000 words and the material itself is based on the 100 most meaningful thoughts posted on the Instagram so far (with over 100 000 likes! o.O ) – which I have organised into six different bits so you can jump to the one you are most in the mood for.
Or just go on the journey of reading it all from cover to cover.
I have also written a personal foreword telling you a little bit more about who I am, and, if you want to connect, I have also put an email adress in there just for the ones that are reading the book.
(So, lets talk about life!)
Oh, and I managed to give it a special pre-order price!
So until it is officially released on the 8:th of December it's only 0,99$ -ish, and after that the price goes up to normal. So if you want it practically for free – now's your chance! (Also, the support would be much appreciated!)
With that said, I really hope you like it.
The vibe is heartfelt but real, and the wisdom of all these amazing people makes for a perfect companion through all the bits of life.
You can find it on Amazon here:
Best,/Filip
Hey, you! If you read all the way to here you must be an amazing person, and curious! Here is the blog archive:
Blog Archive
Also:
There is an Instagram!
&
Who's Filip
anyways?