Blog #6 – Temptations Everywhere / My Routines In Paradise
March 19, 2017.A Sunday.

Temptations are everywhere. From ladies trying to pick you up at the beach (it could happen..!), to just hanging out by the pool with a frosty cold beer all day. Listening to the palm trees in the wind. Watching the water. Closing your eyes and just drifting away…
Ok, it's mostly the pool.
But anyways. In some regards, paradise is the perfect office. And in others, it's clearly not.
And that's when your routines really matter.
They are the blindfolds that keep your eyes off the distractions and on the big picture. At least in theory.
So, the routines that I have developed so far, which actually work pretty well, are as follows:
1) Breakfast and mindset by the pool at 8 am.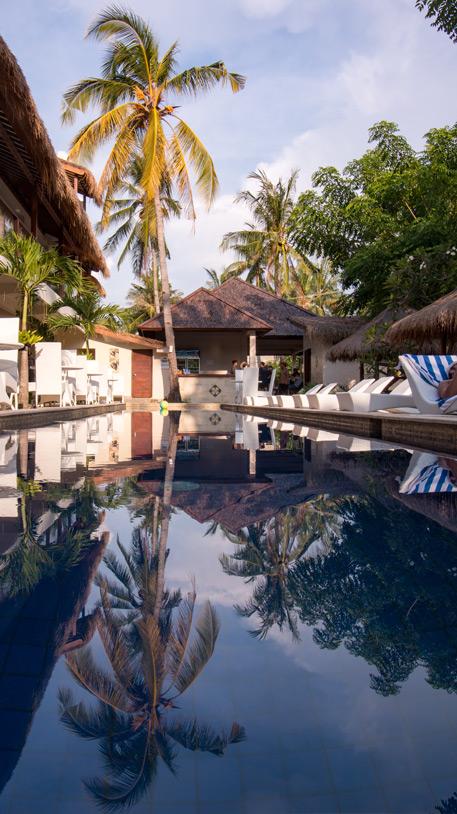 My current place has a great omelette that actually fills me up, and with the right nutrition as well (fat and protein). This is really good stuff since I don't have to run around to find food first thing in the morning, and it also saves valuable energy since the heat – even in the morning – can be quite draining. And you need that energy to focus so you don't end up in a possibly kids-generating conversation on some scuba boat.
Also, starting out by the pool gets the urge "to pool" out of the system straight away. And since it's still early, the peaceful mood of the place is perfect for visualizing the day and to get the mind right.
2) Making the most out of the cooler hours before noon
I have made the hours after breakfast dedicated work time. For instance, the time right now is 9.20 am, the outside temperature is still reasonable (but rising) and since a lot of people here "make the party time," these hours are very quiet and perfect for getting things done.
3) In the afternoon, I eat A LOT.
I have found that it's hard to focus in the afternoon. Mostly because of the sun, but also because the island is coming to life so you get a bit curious about what people are up to. And since you're sort of out of commission anyways, you might as well enjoy a massive food coma on the beach or by the pool (yes, haha!).
But you do have to be careful not to talk to people…
And on the topic of eating a lot, here on Gili T I've found a place where you can order a whole roasted chicken! And it's a big chicken! Probably played rugby or something. So I usually order it as a take away and then have my best go at it, and if the mission is a success it keeps me full for the rest of the day. Which is perfect since I'm at my best on an intermittent fast. And if I can't eat it all at once, I'll just have a second go at dinner time.
This is one half: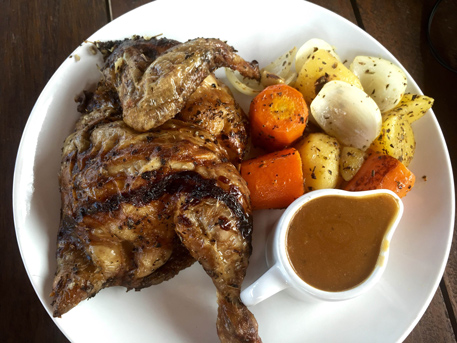 4) The evening shift
And when the sun starts to set, at about 6.30 pm, it's time to get cracking again. I just lock myself up in the nice air-conditioned room of mine and get to work on the big picture, only occasionally venturing out for a quick swim or to stretch the legs.
5) Bedtime just after 0.30 am
I post on Instagram at 11.57 pm, and after that it's time to wind down, have a shower and get some quality sleep. I also do some visualizing in order to wake up as motivated as possible. And that coffee in the morning sun/omelette-pool-thing really helps. Did I tell you about the coffee? It's actually really good, and you can get as many as you want! So yeah, how about that. It looks like the choice of a more expensive place has actually made me excited about waking up in the morning.
And being a bit of a night owl, I think that's a first.
Which makes me think of two things. The first is something that is called "The Mindset of the Poor" (which I will return to in an upcoming blog) and the second is this quote:
"Improve the quality of your life and you will improve the quantity of your business"
– Fredrik Eklund
Moving along!
6) Exercise in some way, at least every other day.
As the gyms are quite expensive, at least in comparison that what things usually cost here in Bali (although Gili is technically Lombok), I have been running more than usual. And now with the great pool at the current place here on Gili, that also goes for swimming. I've found that the time between the food coma and the sunset/evening shift is the best time to workout as the temperature is slightly less brutal.
So, this is basically my daily routine, seven days a week. No days completely off. Which may not be ideal in the long run. And a bit crazy.
But when you know what you want, you just go.
That's it.
And like Oscar Wilde said:
"Moderation is a fatal thing.Nothing succeeds like excess"
– Oscar Wilde